Partner Highlight: Dorchester Family Engagement Network (DFEN) Playgroup and The Boys and Girls Club of Dorchester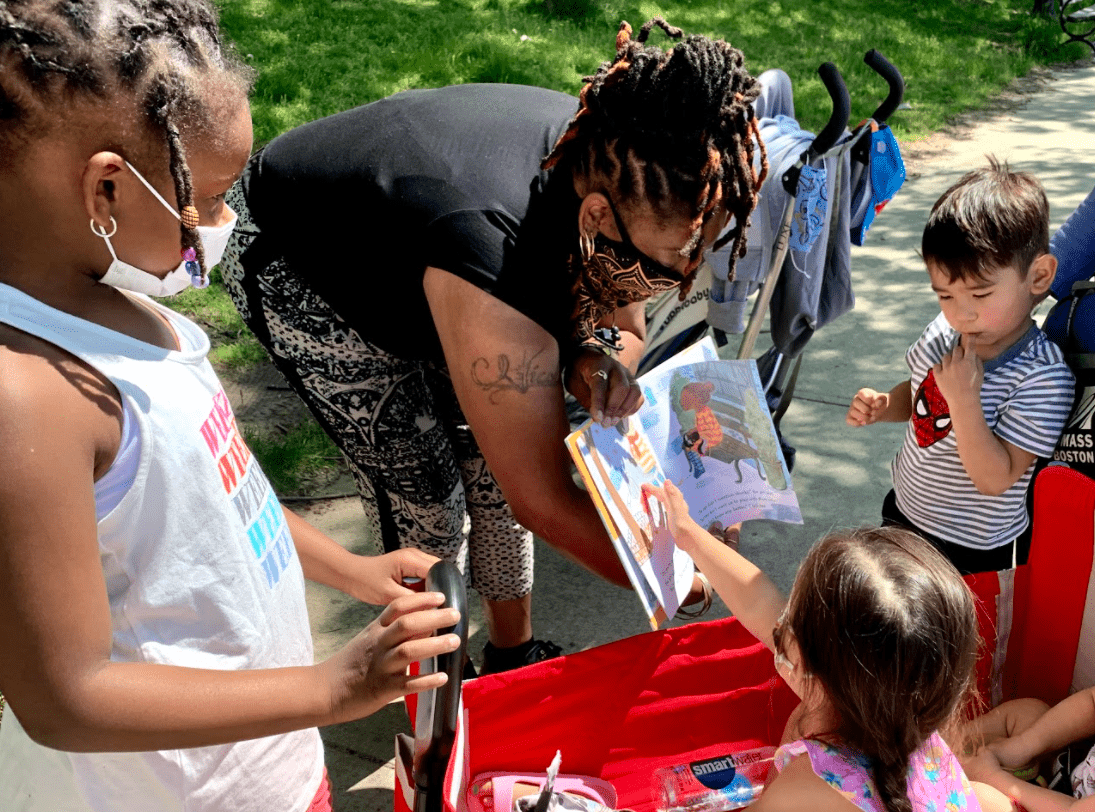 "Reading allows kids to create new worlds beyond the bounds of the one they live in. I believe reading is key in helping children grow to be kind people," said Huong Vu, an Implementer Liaison for two of Raising A Reader MA's (RAR-MA) partners: the Dorchester Family Engagement Network (DFEN) Playgroup and The Boys and Girls Club of Dorchester
The Boys and Girls Club of Dorchester and the DFEN Playgroup has partnered with RAR-MA for over five years, to educate and assist members of the local Dorchester community. The Boys and Girls Club of Dorchester serves children from a few months of age to age eighteen, offering school programming for younger children and after school programming for those five and up. The DFEN playgroup offers similar community programming and family engagement, serving children from birth to two years of age.
Today, families at both The Boys and Girls of Dorchester and the DFEN Playgroup participate in RAR-MA programming. Children have access to diverse books through RAR-MA's signature Red Book Bag, and parents have the opportunity to learn about how they can help their child develop early literacy skills using a series of dialogic reading practices.
One of the ways that Huong felt the RAR-MA was most impactful to members of the Dorchester community was how it made reading more accessible. Huong recalls that for many families the Red Book Bag rotation takes away the worry of having to buy books or go to a local library. Additionally, RAR-MA's diverse book approach and parent programming take the pressure off of parents who worry they will not be able to help their child read if they are not fluent English speakers.
Though Houng recalled having great success with RAR-MA Storywalks before the pandemic, she felt apprehensive about trying to create a virtual Storywalk that would be just as engaging: "We had to think about how we wanted to still get the attention of the kids as a story walk is primarily about both walking and reading, and due to the pandemic, we had to cut the walking. However, we found a way to make it meaningful to families. We had guest speakers read different parts of the story and we compiled it into a single video which we shared with families alongside craft materials that they could do during the story walk. Additionally, we had a video about dialogic reading, as we usually have a pop-up shop for parents about it and still wanted to be able to teach them as well. I was nervous we wouldn't have a good turnout, but it ended up being very popular."
RAR-MA's partnership with both The Boys and Girls Club of Dorchester and the DFEN has continued to encourage parents/caregivers to engage in reading with their students, overcoming language barriers, and cultivating a love of books. Throughout the pandemic, this community collaboration has helped many students get an early start to their reading careers for a lifetime of opportunity.