Parent Engagement For Early Literacy And A Lifetime Of Success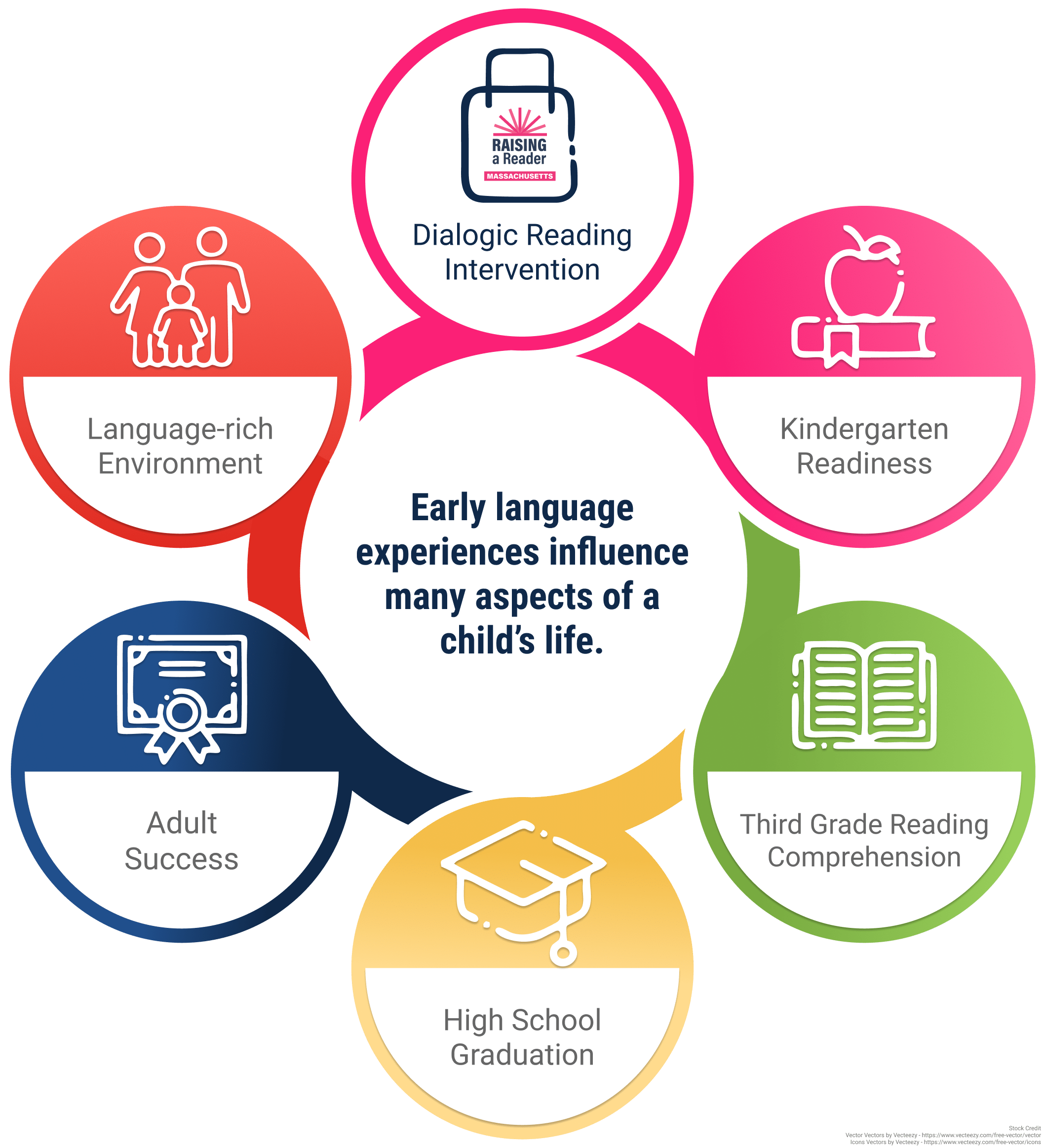 Kindergarten
Readiness
Consider kindergarten readiness from a developmental perspective. Language, motor, adaptive, cognitive, and social/emotional skills all blend to support a strong foundation for learning.
The opportunity gap is evident early in a child's life. That same opportunity gap is responsive to intervention of increased complexity of verbal interactions.
Third Grade Reading Comprehension
Why third grade? Third grade reading levels are widely accepted and used by researchers as a predictor of both high school success and college enrollment.
Reading is both fun and beneficial. Reading for pleasure is associated with increased academic performance across a variety of subjects.
High School
Graduation
Third grade reading proficiency is linked to high school graduation. The numbers tell a powerful story of who is at risk.
A house filled with books can prevent this. Regardless with parents' education level, occupation and socioeconomic status, children with a great exposure to books can have 3 more years of schooling than bookless homes.
Adult
Success
Many factors influence a child's readiness to learn. How a child enters formal schooling has long term implications.
Adult literacy levels have a wide impact on personal and professional activities.
Language-Rich
Environment
Talking with very young children makes a difference. Increasing the quality and quantity of verbal interactions with infants supports both direct and indirect language learning and lexical development.
The experience of conversation is important. Repeated turn taking is connected with increased brain activity demonstrating both environmental and physiological influences on language skills.
Why Raising a Reader MA?
Studies have shown that the single most significant factor influencing a child's early educational success is an introduction to books and being read to at home prior to beginning school.
The dual-intervention moves the needle: book access and parent/caregiver education on reading strategies.
Parents/Caregivers As A Child's First Teacher
Verbal engagement is key. Regardless of risk factors, the proficiency gap can be erased when parents engage verbally with their children in the early years.
Links
---
Dialogic Reading: A Picture Walk Through Books
Children learn best when they are actively involved in the process. In dialogic reading, the adult helps the child become the teller of the story. The adult becomes the listener, the questioner, the audience for the child.
Links
Evaluation of the Raising a Reader Model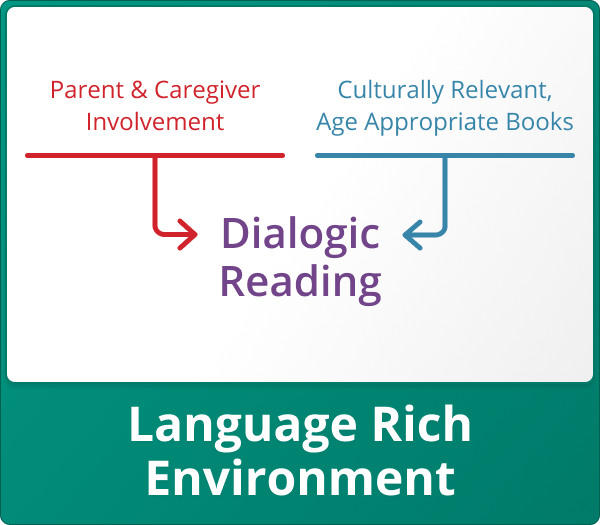 The Importance of Dual Intervention in creating a Language Rich Environment
A 2014 study of the Raising a Reader model confirms the importance of the dual intervention. Increasing exposure to high-quality children's literature is not enough to move the needle on language and literacy development – parent/caregiver training in optimal shared reading practices are necessary in order to make a difference.
The study finds that the dual-intervention not only promoted school readiness in at-risk children, but also accelerated a closing of the opportunity gap among the most vulnerable children.
Jason L. Anthony, Jeffrey M. Williams, Zhoe Zhan , Susan H. Landry & Martha J. Dunkelberger (2014) Experimental Evaluation of the Value Added by Raising a Reader and Supplemental Parent Training in Shared Reading, Early Education and Development, 25:4, 493-514,
DOI: 10.1080/10409289.2013.812484.
---