Raising A Reader Massachusetts
Who are we? Raising A Reader MA is an early literacy parent engagement organization.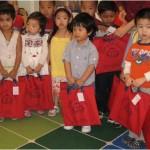 Opportunity Gap: By third grade, 53% of all third graders in Massachusetts are not reading proficiently, and this number jumps to 75% for low-income children. Children who are not proficient readers by the end of third grade are four times more likely to leave school without a diploma.  This gap begins well before children begin school. Research has identified discrepancies in children's vocabulary based on socioeconomic status as early as 18 months.
Raising A Reader MA offers an evidence-based early literacy program that helps families of young children (ages 0-6) develop, practice, and maintain habits of reading together at home.
Why? Research shows that the single most significant factor influencing a child's lifelong achievement is being regularly read to by their parents and adult caregivers before starting kindergarten.

Our Partners
Raising A Reader MA is a collaborative program – we work with centers of early education and care including Horizons for Homeless Children, Head Start, home visitors, early intervention playgroups, and public pre-schools.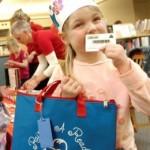 Our Reach
Raising A Reader MA currently has more than 48,000 books in circulation through the homes of 12,000 children and families across the Commonwealth including: Boston (Dorchester, East Boston, Jamaica Plain, and Roxbury), Chelsea, Revere, Everett, Malden, Brockton, Taunton, Holyoke, Lawrence, Lowell, Lynn, Plymouth, and Springfield. In the next few years, we hope to serve Fitchburg and Worcester.
In Massachusetts, one child out of three from a high need community will not graduate from high school because the child enters kindergarten behind and will never catch up.
Children growing up in poverty experience a 30 million word gap [that is to say, they enter kindergarten having heard 30 million fewer words], compared to their middle class counterparts (Hart & Risley, 1995).