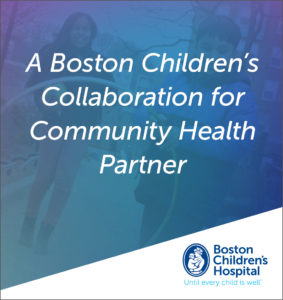 Raising A Reader MA (RAR-MA) is thrilled to share that it has been awarded three years of funding from the Boston Children's Collaboration for Community Health, one of RAR-MA's largest grants to date.
The initiative is separated into three target areas: Family Housing Stability and Economic Opportunity, Community Physical Activity, Recreation and Food, and Zero to Five Child Health and Development. RAR-MA was selected as a Zero to Five Child Health and Development partner for its ability to access parents to teach them the importance of being their child's first teacher, ultimately improving child school-readiness and academic success.
With the support from Boston Children's, RAR-MA will be able to increase existing resources dedicated to the Parent Ambassador program and support a new cohort of parent leaders; expand program coverage to new partners and additional sites at existing partners, including program management and 600 additional Red Book Bags; and build evaluation capacity. RAR-MA will hire two new staff (check out our job postings) and work with key partners like Boston Family Engagement Network in order to accomplish these goals. All funding will be applied to RAR-MA efforts in the Greater Boston area.
"We are so proud to have secured this funding and partnership with Boston Children's Collaboration for Community Health. With a high demand for more parent workshops and book rotations in Greater Boston, this funding will allow us better meet the needs of both our community partners and the families they serve," shared Christine Ward, Executive Director.