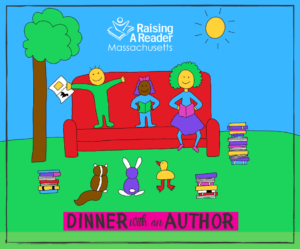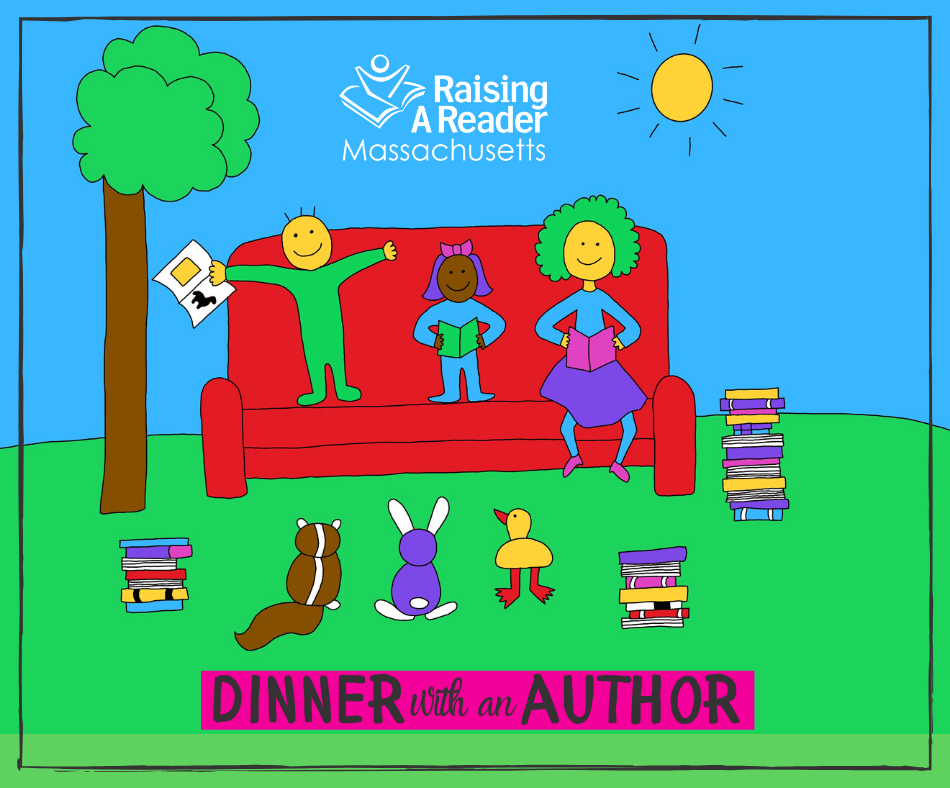 This year's theme is fittingly Todd Parr's book, Reading Makes You Feel Good with event honorees Tonya and Ben Mezrich, accomplished authors and longtime Raising A Reader MA supporters. The spirited spring event will feature a cocktail hour, a seated dinner with an esteemed author at each table, and live and silent auctions.
October 15, 2020*  |  5:30 - 9:00 pm
Mandarin Oriental, Boston MA
Click here for more info, tickets and sponsorships.
Click here to download the sponsorship package.
*Please note: This is an updated event date due to concerns with the COVID-19 pandemic. As updates are available, we will provide more information here and on the event site (link above). If you have questions, please contact Mary Ann F. Lerner at maryann@raisingareaderma.org.
Emerging Leaders Board
Raising A Reader MA's Emerging Leaders Board was conceived and established by the Board of Directors as an associate board of young professionals with its own management structure in order to raise awareness of and funds for Raising A Reader MA to young professionals.
The Emerging Leaders Board is a membership based group, whose participants regularly contribute to the progression of the organization's core mission and develop into potential future leaders, specifically as potential Raising A Reader MA board members.
EL members apply to participate in the group and have a fundraising goal for the year. Applications are reviewed and accepted by the Emerging Leaders Board.
Executive Committee:
Co-Chair – Emily Leinbach, The Bowdoin Group
Co-Chair – Chapman Leedy, Federal Reserve Boston
Members:
Sarah Canavan, Vynamic
Manusha Chereddy, Harbourvest
Sarah Curry, Jones Lange Lasalle Boston
Amanda DiMatteo, Peabody & Arnold
Parker Greiwe, Boston Children's Hospital
Bill Hall, Nightshift Brewery
Serene Liu, IBM Resilient
Kevin O'Hanlon, Marcus & Millichap
Kelly Newman, White & Case
Brendan Rice, Magellan Jets
Clune Walsh, Boston Consulting Group
Ian White, Workbar
Joshua Zeff, KPMG
Emerging Leaders Fundraising Events:
Februay 13, 2020 - Sip & Spin
TBD April - Wine Tasting
August 2020 - Summer Party
September 2020 - Rodman Ride
Unfortunately, we do not currently have any open positions. Thank you for your interest!
HOST A
BOOK DRIVE
Businesses, schools and community groups often host new and used book drives to support Raising A Reader MA.
IN-OFFICE
DATA ENTRY
Assist in tasks such as entering family pre- and post- Red Bag implementation surveys, entering information forms, and entering partner surveys. Other administrative volunteer opportunities available, as well.
DOUBLE
YOUR IMPACT
Did you know most companies will match their employees' contributions to our organization? After you make your donation, ask your employer about its matching gifts program. If your company is eligible, request a matching gift form from your employer, and send it completed and signed with your gift, or the process may be electronic. We will do the rest. The impact of your gift to this organization may be doubled or possibly tripled!
SUPPORT WORKSHOPS
THROUGH OUR AMAZON WISHLIST
Give the gift of literacy when you provide us with workshop supplies such as gift cards, flip chart paper, and books!
LEAVE YOUR
LITERACY LEGACY
Gifts by will are a meaningful way to leave unrestricted funding to Raising A Reader MA and to help create the next generation of readers and leaders. Please consult your attorney and consider gifting us a specific dollar amount, a percentage of your residual estate or a specific asset. We hope you will also consider informing us of this decision so we can properly thank you. Email maryann@raisingareaderma.org if you choose to do so.
AT HOME
REMOTE OPPORTUNITIES
Assist in tasks such as translating documents (Arabic, Somali, Haitian Creole, Cape Verdean Creole, Spanish, and more needed), contributing to our monthly newsletter, researching new funder prospects, and graphic design.
Interested in these and other opportunities?
Sign up for weekly volunteer updates from RAR MA in your inbox!