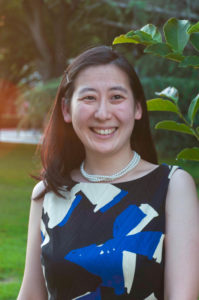 Raising A Reader MA is pleased to introduce Angela Han, who is taking on the role of Director of Development. With the addition of Angela to the previously one-person development team, RAR-MA is in a strong position to strategically build out and diversify its funding strategy. Angela has an extensive extensive background in the nonprofit sector and passion for RAR-MA's mission. With experience as a fundraiser for education organizations, executive director for small nonprofits, and policy researcher for a national network of funders, Angela is ready to take on this significant role for a small but mighty nonprofit.
One of her formative professional experiences was working with children in the city of Detroit as a science museum educator, where she observed firsthand the impact of poverty on the education gap. Angela earned her BS in Physics from the California Institute of Technology, a BMA in Music from the University of Windsor, and an MBA in Arts Administration from the University of Wisconsin-Madison.
"I LOVED reading growing up and have strong memories of taking weekly trips to the public library with my brother and parents. When I first learned about Raising a Reader MA I realized that there are a lot of connections to my own childhood. I grew up with parents who spoke English as a second language. I was fortunate that they had the time and ability to read books to me, but it wasn't easy for them. I'm excited to be supporting an organization with such a great mission!" shared Angela.
If you are interested in speaking or meeting with Angela, she is happy to do so! Email [email protected] and introduce yourself.