I read for strength to help me when I feel broken, discouraged, and afraid.
I read when I'm angry at the whole world.
I read when everything is going right.
I read to find hope.
I read because I'm made up not just of skin and bones, of sights, feelings, and a deep need for chocolate, but I'm also made up of words.
Words describe my thoughts and what's hidden in my heart.
Excerpt from Gary Paulsen, Shelf Life: Stories by the Book
---
May Literacy Resources
May is Mental Health Awareness Month!
Literacy helps open doors not only to the world around us, but also to the world within. Nurturing the Social-Emotional learning that comes from reading is a key part of our mission – 'Literacy' means being able to communicate as well as read.
Promote your child's social-emotional growth by encouraging them to talk about their feelings, listening attentively, and giving plenty of space for active play.
Make time for daily connection questions like: "what are things that make you feel better when you're upset?"
Here are some of our team's favorite works that help children understand and process emotions:
It's Okay to be Different and The Feel Good Book by Todd Parr
How Do Dinosaurs Say I'm Mad? by Jane Yolen
Even Superheroes Have Bad Days by Shelly Becker
Scaredy Kate by Jacob Grant
Benji, the Bad Day, and Me by Sally J. Pla
I Like Myself! – by Karen Beaumont
And Here's to You by David Elliott (for which we have a storytime video)
Family Literacy Activities
Our Family Literacy Calendar is a handy day-by-day resource of simple literacy-building activities and fun that you and your family can easily do at home! Some of our favorites for May include:
Friday, May 6th: Read a story without even looking at the words – what do the pictures tell you that the words do not?
Tuesday, May 10th: Make spaghetti letters! Cook some long & thin pasta and use it to form new letters – wait until you're done to add the sauce! 🙂
Wednesday, May 25th: Spread a little respect, love & kindness – Give 6 compliments today.
---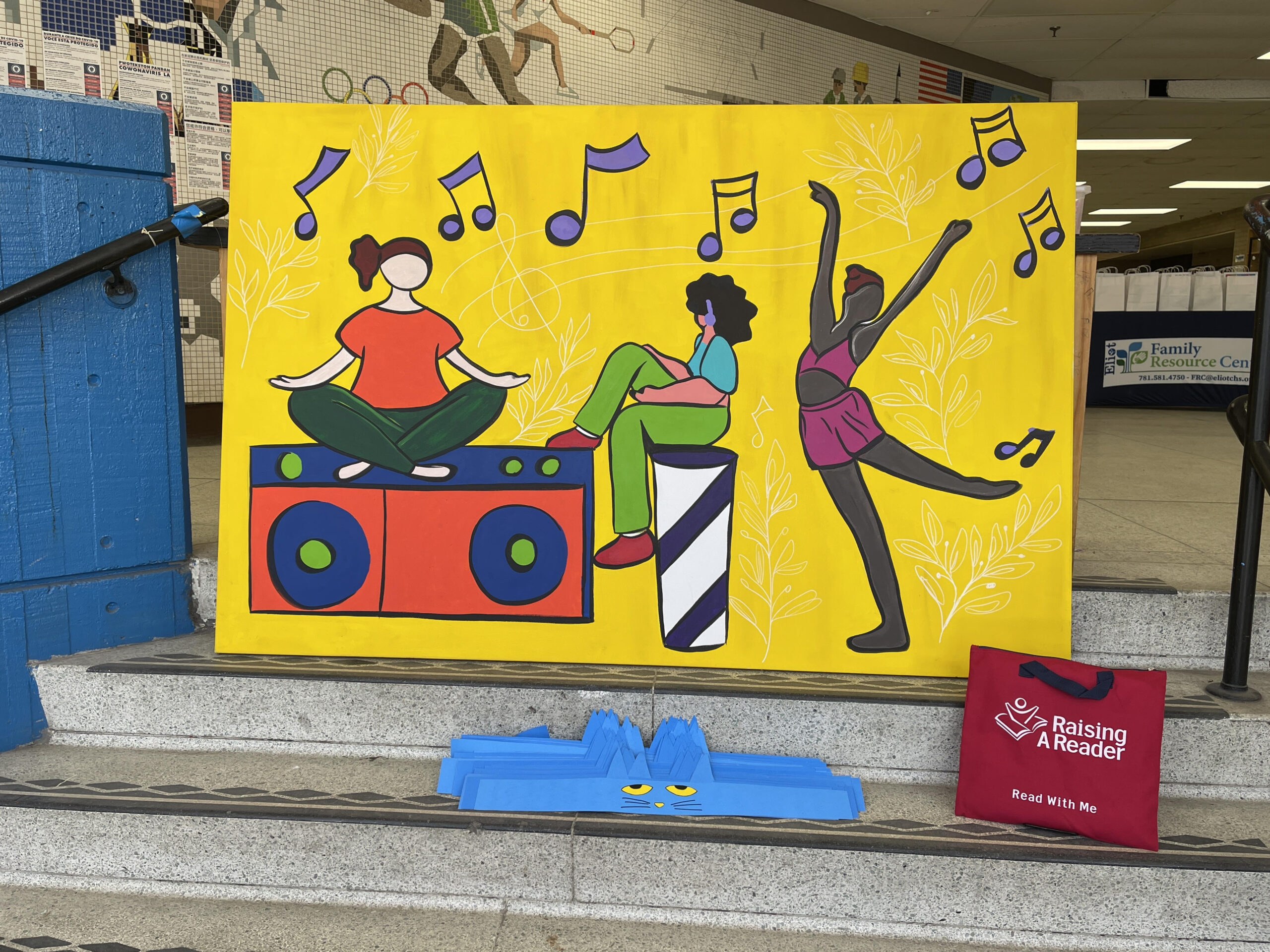 Week of the Young Child Update – Huge Success!
The response to our Week of the Young child events has been overwhelmingly positive – people want more!
From Chelsea to Lynn, from Revere to Everett, working with libraries and family resource centers, our team ran 8 storytimes (7 in person, 1 via Zoom) and activities, engaging with 226 young readers and 172 parents in 3 different languages!
A special thanks to our partners in this week-long celebration:
Chelsea Public Library
Revere Public Library
Everett Public Library
Lynn Public Library
Eliot Family Resource Center
Everett Coordinated Family and Community Engagement
Chelsea Revere Family Network
And to all the hard work of our program team for putting together such a wonderful time for all the young learners!
---
Implementer Appreciation Week: May 2nd-6th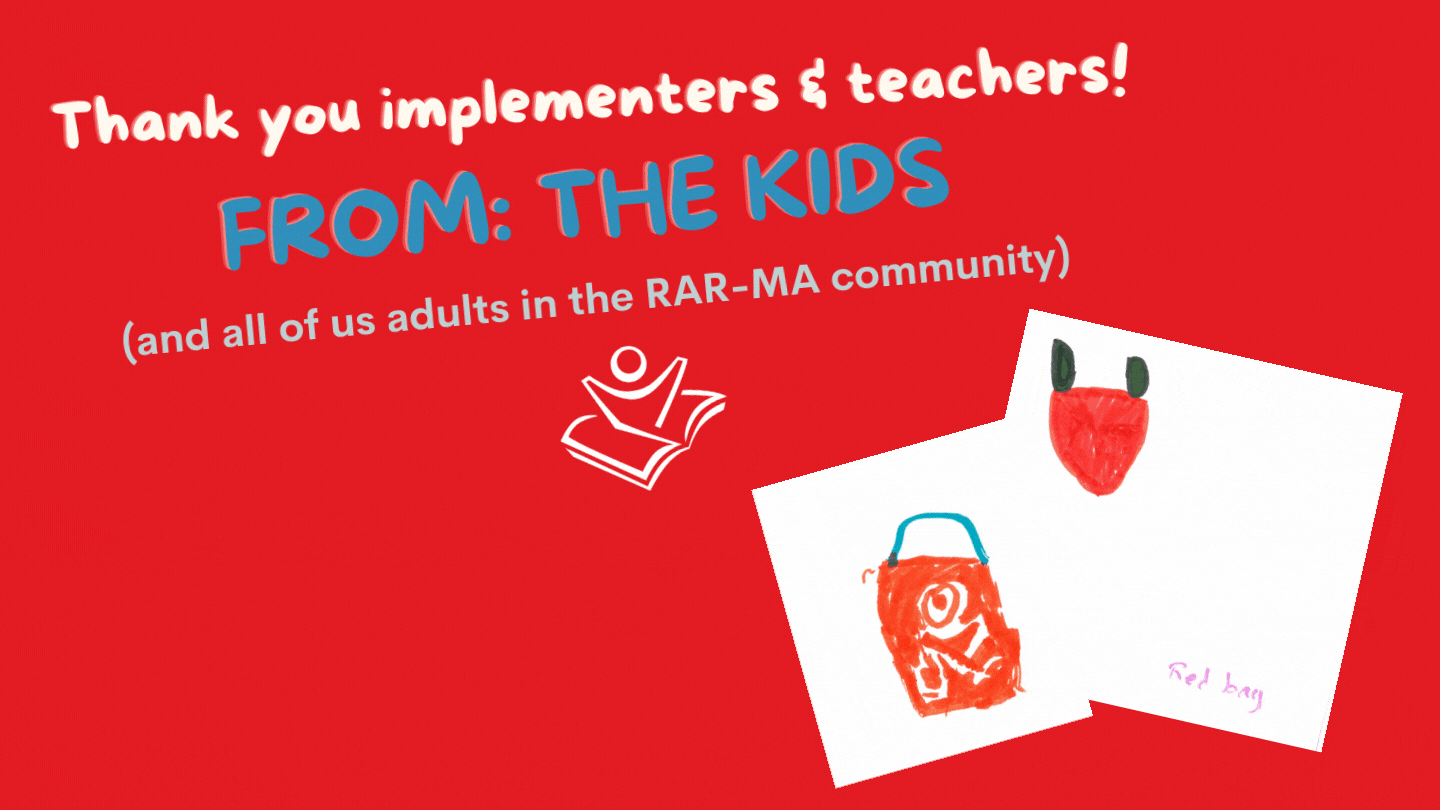 The mission of Raising A Reader MA works through the support of our partners. And their work is successful due to the tireless efforts of those connected to the young learners they serve. We're so appreciative of all our Implementers who work with our partner organizations to help make Raising A Reader MA happen for all of our participants. They are an integral part of our program, and we could not make it happen without them.
---
---