On Wednesday, April 4th, Coordinated Family & Community Engagement hosted an early literacy night at Lynn Vocational Technical Institute. The event was held to show members of the community the support and resources that are accessible to them so they can better prepare their children for school.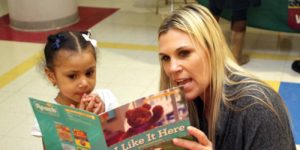 Raising A Reader MA's parent liaison for Greater Boston, Guadalupe Panameno organized one of RAR-MAs's signature story walks. These are presented to audiences at workshops to engage the audience in the story or book of choice. It allows staff members to demonstrate the dialogic reading techniques on a large scale, while also entertaining the children.
Read the full story on ItemLive here.