Meet the Staff: Summer 2018 Interns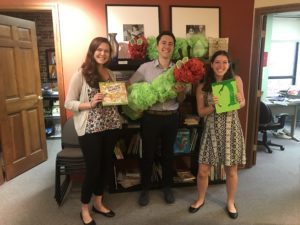 For the third summer in a row, Raising A Reader MA has benefitted from the support of the DukeEngage program. Funded by Bill and Melinda Gates, DukeEngage allows Duke University students to travel around the world and immerse themselves for an extended time in various communities, working with nonprofits and organizations. Our interns' program is focused on educational inequity and social justice in Boston, with interns placed at seven nonprofits in the greater Boston area. In addition to their internships, they have had the chance to explore different Boston communities and engage in discussions about issues pertaining to their program themes.
With no further ado, meet Ben Thier '20, Maggie Haas '19 and Eliza Paradise '21. They came to us with bright eyes, great ideas and a variety of academic backgrounds and career goals. While all are a hit with the children and parents at workshops demonstrating the dialogic reading techniques, we have leveraged their studies and skills in many other areas of the organization.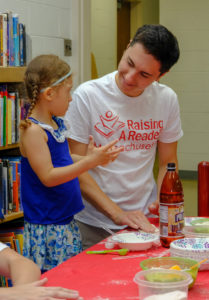 Ben is a Neuroscience major with a minor in education. He came into this summer wanting a chance to see "the other side" of education that doesn't happen in schools and classrooms. "I feel very grateful for my educational opportunities and hope to share that same love of learning with families to get their own children motivated in school," he said.
We have put his skills to use doing data entry and analysis, research and literature review, video editing and production, and curriculum planning.
With his experience at RAR-MA and his studies at Duke, he would like to explore ways to make an impact on teaching and learning experiences in schools using a research-based approach to education. He's already made some headway on this. In his free time, Ben participates in a Macmillan Learning student advisory board focused on educational research and product codesign. They meet twice a month online to discuss initiatives and generate feedback. "It's great that a large company is so invested in hearing the student voice," he shared. 
Favorite childhood book: The Magic Treehouse series by Mary Pope Osborne.
Greatest lesson learned from a book: Adventure is out there!
Describe RAR-MA in one word: Community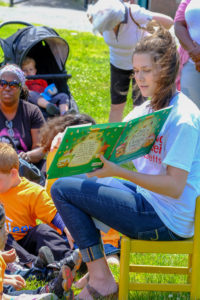 Maggie is a Psychology major with a focus in Human Development. Her educational focus and interests are centered more on direct interaction with children. Going into the summer with us, Maggie said, "As someone who does a lot of hands-on work with children, I was excited for the opportunity to see the 'behind-the-scenes' world of education. RAR-MA offers a wonderful balance of working both in the office setting and also within the community."
Maggie has been focusing on developing our 2018-19 Literacy At-Home Calendar, as well as doing program event write-ups, and creating curriculum resources and parent resource handouts.
At school, she works closely with first-year students, helping them to acclimate to their new environment. She also coordinates a classroom of preschool-aged refugee children in Durham in hopes of making North Carolina more of a home for them.
Of her future, Maggie says, "As I gear up for my senior year, I know graduate school is in my near future. While I don't know exactly where that will lead me, I know I love the world of mentorship and education, and I hope to be a college professor at some point in my life."
Favorite childhood book: Blueberries for Sal by Robert McCloskey
Greatest lesson learned from a book: Don't flip to the last page and spoil the story!
Describe RAR-MA in one word: Supportive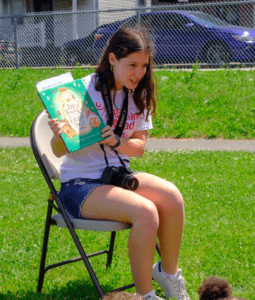 Eliza is a Computer Science and Global Health major. Fresh off her first year at Duke, she saw DukeEngage and RAR-MA as the perfect opportunity to explore something she's passionate about: education and community engagement. During her first semester at Duke, she also took two service-learning classes where she learned about inequity issues in education and volunteered her time to address the issues in the Durham community.
Eliza's skills have been put to work improving the website, creating marketing materials and parent resource handouts, and working on data system clean up and volunteer communication. She just so happens to be adept at reading with children, too. She is the third of seven siblings, with four siblings under the age of 12. "My experiences spending time with them and getting to read with them at night fueled my interest in working with kids and making sure that all young students have the same opportunities as my siblings," she shared.
Although Eliza has a little bit more time before graduation than our other interns, she says, "I'm hoping to apply my love of Computer Science to my interest in promoting educational and health equity through using app development to address issues plaguing these fields."
Favorite childhood book: Click, Clack, Moo! by Doreen Cronin
Greatest lesson learned from a book: There are stories all around us!
Describe RAR-MA in one word: Passionate