From Tasha Espendez's early years to adulthood, reading is the focal point in the page-turning journey that would lead her to land a staff role for Raising A Reader MA.
Tasha's first vivid memory was in bed reading with her mother. They would pick a page every night from a children's illustrated bible and discuss the stories that came from each page– a foreshadow of one of the main reading strategies she would eventually share with others as an RAR-MA Program Manager. Beyond the text of a book, there is a world of stories that come from a single picture. A parent or caregiver has the power to jumpstart a love of reading culture for her child.
As an army family, relocating often meant traveling around the globe experiencing a variety of cultures.  It also meant no roots in any community, constantly donating house items, toys, favorite books, and clothing to reduce the moving load, and saying goodbye to barely new friends or family members.  While Tasha valued experiencing new places, it took a toll on her family. Her father struggled to find sustainable work after he retired from the army and her mother battled mental health issues to the point of hospitalization, leaving Tasha and her siblings to often find solace and refuge where they could. For Tasha, this was in books.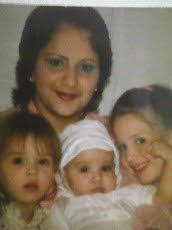 Whether it was Germany, Puerto Rico or the US, libraries became a known safe space. At 8 years old, Tasha was given the first, 'honorary librarian' title in the school at the time.  In middle school, she earned many literacy based awards. In extracurricular activities and in high school, her work study included supporting checking in/out books for her classmates in the school's library.
In 1996, her family relocated to the United States, and while the move led to the divorce of her parents, it also meant finding a home in Lawrence, MA.  With an 80% hispanic immigrant population in the city, many families understood the pain of leaving loved ones and dear things behind in the pursuit of a better future.  It was easier for Tasha to relate to her classmates who were many experiencing the transitions that come from migrating into a low socioeconomic community- language, being one of the more tangible shared challenges.
While there were not a lot of resources available, and Tasha struggled in most of her classes, there were many individuals who cared and worked hard to support the children at the Lawrence Public Schools. She glows at the list of people that helped put her in good standing for college–from her Geometry teacher who constantly challenged her to use more vocabulary and be eloquent in resolving math problems, to her guidance counselor who advocated for her to enter late in an academic summer bootcamp program that would support her application process. Their efforts and of many others inspired her desire to eventually come back to Lawrence to work for youth empowerment programs.
During her time in Clark University in Worcester, she was perpetually intrigued by language development and literature, and specialized in Communications and Culture in the Language Discourse. Tasha spent time at American University in the Transforming Community Seminar Exchange program and quickly learned how many policies had a direct and indirect impact on the challenges facing her community. Further, it made clear the role that education played in breaking the cycle of poverty.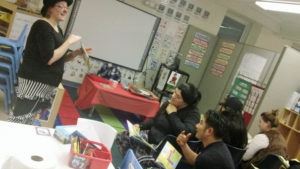 After college, her series of jobs and volunteer experiences combined to make her a strong fit for an RAR-MA Program Manager. She served as a team leader at YMCA, a Lawrence Public Schools special education paraprofessional, to a NEPRA adult ESL Instructor–all helping her understand that there were more ways to empower families in her community through education outside of the classroom setting.
A significant contributor to Tasha's strengths was her time as a volunteer facilitator at Lawrence Community Works where she facilitated projects within neighborhood circles to encourage conversations among neighbors to collaborate in identifying major issues and creating solutions. From Lawrence Community Works, Tasha learned something quite profound: the context for change must come directly from those affected by issues. As an agent for change listening is more important than speaking.
It was also through her volunteer work there that she heard about the RAR-MA job opening! "The role was a happy marriage of my passion for books, an early step to youth empowerment, working with adults and supporting my community, I knew I had to go for it" Tasha said.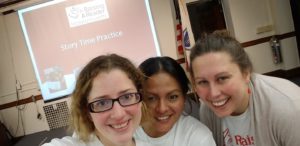 Tasha's understanding of the Lawrence community and the challenges that RAR-MA program partners and parents face is remarkable. Successful programming in Lawrence is based on the ability to create relationships and build trust with other community stakeholders. And of course a love of books helps, too!
"The most rewarding aspect of the job is the instant a workshop ends, when parents who were hesitant at first, choose to stay after a workshop to ask questions, interact with other parents and offer suggestions of other strategies. I love to see how excited they get about what they hear in the workshops and how energized they are to share their experiences," notes Tasha.