Two Duke Engage students, Emily Cohen and Kyle Peterson, spent their summer with us at Raising A Reader MA. Duke Engage is a program that places students as summer interns in non-profits around the world, while they simultaneously learn about a social issue as a cohort. They both split their time doing direct service in our communities and administrative tasks in the central office. Emily helped the development team put together marketing collateral while Kyle helped the program team create a text messaging program for parents.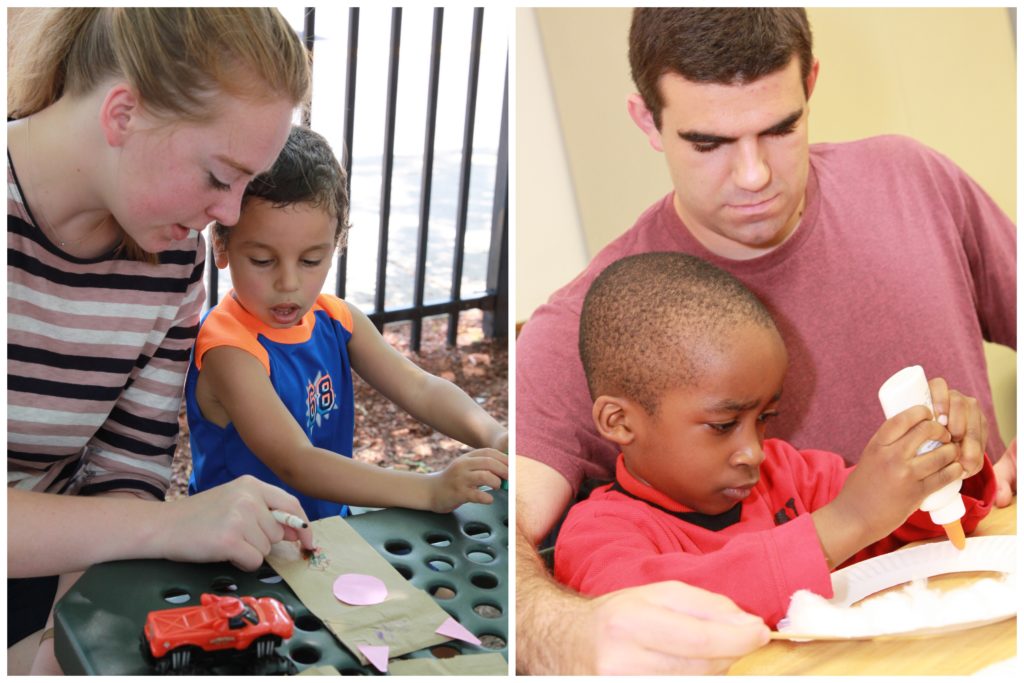 The Duke Engage program partners with many non-profit organizations. What attracted you to Raising A Reader MA (RAR MA)?
E: It's innovative and backed up by scientific evidence. I love the original idea of using reading as preventive measure (to prevent crime, teenage pregnancy, jail). I wanted to support a model that works.
Plus, I love working with kids and I'm fluent in Spanish, so I felt like I could contribute to working in Latino communities.
K: I really enjoyed my interview with Sara (Director of Program and Evaluation). She suggested projects that I thought would give me the opportunity to contribute. This was appealing to me because I really wanted to make an impact this summer. After my interview, I didn't bother looking anywhere else.
I love the work that RAR does.  It's so critical for children to bond with their parents by having conversations during storytimes. When parents value their children's opinions, it helps them build self-confidence and social skills.  The literacy skills they learn from a young age put them on the right track academically.
What did you like most?
E: The combination of administrative tasks with direct service. Through the parent workshops and summer storytimes, I was able to see what the program looks like on the ground.
The staff were informative during the orientation. They showed us lots of research, modeled dialogic reading, outlined the need, and the program model. It felt welcoming.
K: I loved going out to parent workshops and summer storytimes because we could see exactly what's happening on the ground. It makes the office work so much more meaningful because I can see how everything is connected.
I also loved seeing and hearing feedback from parents and teachers. One teacher said that it was cool to go into a classroom, read a book, and see the kids so excited to answer questions because they had already read the book. That was wonderful to read because it's exactly what RAR MA is trying to do – foster the love of reading.
What should everyone else know about RAR MA?
E: The model works and there's a great team of people working hard to implement it. Everyone cares about the mission – it's not just a job to them.
K: I was amazed at how enthusiastic everyone is and how true RAR MA is to its mission. Everyone had a busy schedule, but still took time out to check in with us. I really liked the environment. You can stop in, ask anyone a question, and they will support you. It is a total team effort.
How was it like at the summer storytimes? Could you share a favorite memory?
E: The program staff does a great job of customizing the curriculum and giving individualized advice to parents.
Stacy read The Little Mouse, the Red Ripe Strawberry, and the Big Hungry Bear during one of the storytimes. At the end, she announced that they would be planting seeds for the extension activity. One little boy exclaimed, "I can't believe it! This is my dream!" It was so cute. This same boy was very confident, answering questions throughout the story. I could tell his mom was proud of him.
K: Stacy asked me to demonstrate dialogic reading strategies at the very first parent workshop we attended. It was a great experience working with the parents. When I went out into the communities, I didn't want to just stay by and watch. I wanted to be part of it.
What do you remember about your childhood storytimes?
E: My parents read to me consistently since before I was born. I loved how my mom would make funny voices and asked me questions to get me involved. I've never heard of dialogic reading before, but that is exactly what she used. My mom works at a foundation that works with various non-profits regarding early childhood literacy. She gives the Read Aloud Handbook out to everyone about to have a baby. Through my mom's influence, I truly understand the importance of early childhood literacy.
K: I was really into trains as a kid. I remember reading The Little Engine That Could with my mom and my dad all the time. They were really good about putting in the time to read together. Before I was old enough to read Harry Potter, my dad would read it to me. They used all the same strategies RAR MA teaches (asking questions, using expressions). They showed me the importance of reading. This summer Emily and I were really excited to re-read some of the books that we read as kids.