Opening Doors by Opening Books
Mission
Our goal is to close the literacy opportunity gap among children birth to age six in high-need communities by helping families develop and practice shared home reading habits. The vision is to make interactive reading a joyful and rewarding routine for all families. We equip parents to be their child's first teacher, empowered to be active participants in their child's education, impacting success in school and beyond.

Model
We meet parents where they are – partnering with local and community organizations to host or deliver the Raising A Reader MA program in settings trusted by families.
Our Signature Red Book Bag Rotation Program: Each week every participant brings home a different, bright red bag filled with high quality, culturally appropriate children's books in multiple languages. Over the course of the year, each child gets exposed to dozens of titles to share with their families. This rotation program serves as a perfect vehicle to sustain the home-school partnership and creates daily opportunities for educators to increase parent involvement.
Family Workshops and Training: We give parents the strategies they need to share books effectively with their young children. Our multi-session training series teaches the key techniques of Dialogic (Interactive) Reading, which has been proven to improve children's vocabulary and other skills essential for their later school success. Our multilingual DVD, Storytime: How to Share Books With Your Child, complements these trainings by offering more tips to integrate reading into a daily routine. Use of text messaging and other technologies reinforce the learning.
Training and Support for Staff: We work closely with staff at our partner sites to help them develop children's pre-literacy skills through storytelling, book sharing, family empowerment, and other related activities.
We use the Theory of Change to assess the desired theoretical change.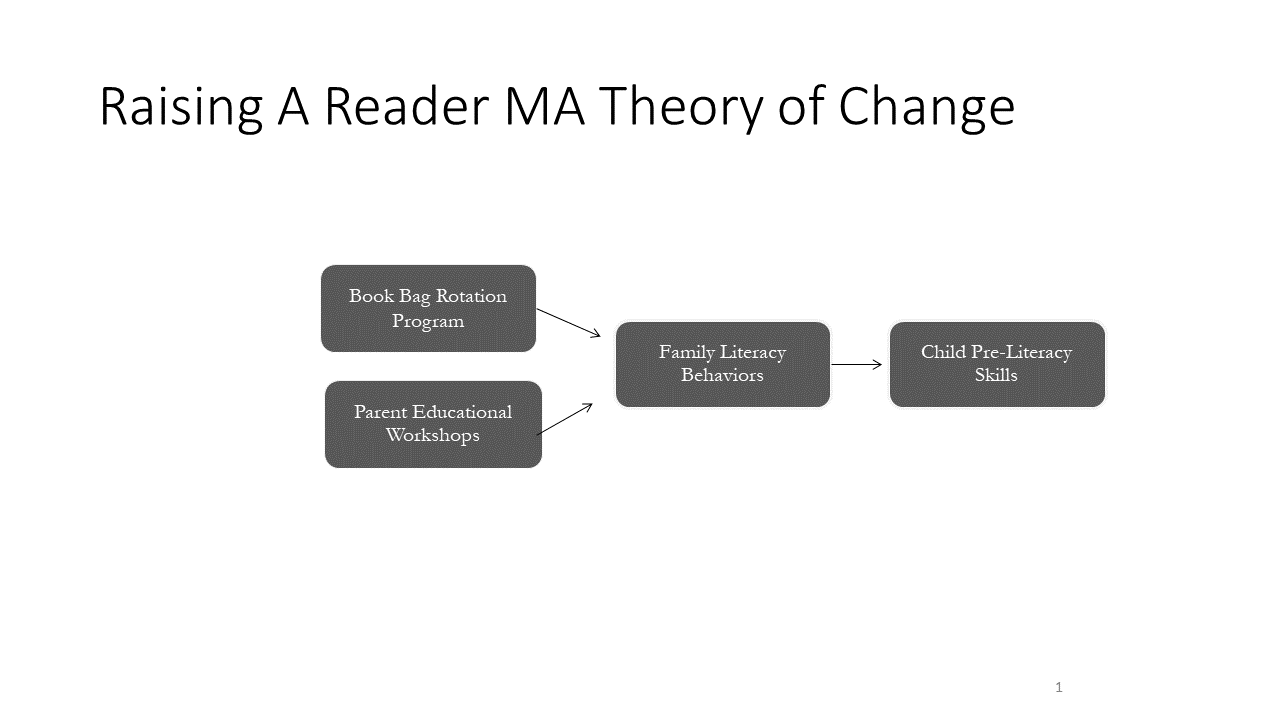 History
Raising A Reader MA is an independent affiliate of a national organization that was brought to Massachusetts in Spring 2006 by the GreenLight Fund, an organization that identifies high-performing, innovative nonprofits in cities around the country and then supports expansion of those programs where they meet a local need. The GreenLight Fund chose Raising A Reader for its demonstrated success and efficacy in dealing with a central issue in American education today – the academic readiness gap between low income and middle/upper income children. In 2009, Raising A Reader MA became an independent 501(c)(3).