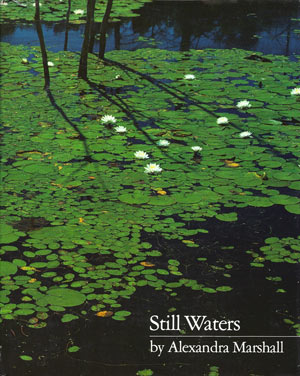 Born in Western Pennsylvania and raised in the near suburbs of New York City, Alexandra Marshall graduated from Wheaton College in 1965 with a BA in French while studying modern dance at the New England Conservatory. The following year she studied Japanese classical dance in Kyoto, returning to New York to work at the Japanese Consulate and study Japanese at the New School. In 1966 she married her first husband, Timothy Buxton, and they moved to Stanford University, where she worked at the International Students Center. She then earned an MA in French from Columbia University Teachers College, and taught French the next year at a public junior high school in Exeter, NH. In 1970 the couple led a group of college students to Ghana, West Africa for Operation Crossroads Africa, a program that JFK called "the progenitor of the Peace Corps." Her husband died there at age 28.
Returning to the US she moved next to New Haven, intending to enter a doctoral program in American Studies. She began to write instead, however, educating herself by reading American, British, and Canadian contemporary fiction, and by completing two "practice" novels. With a next move to Amherst, MA, she wrote "human interest" stories for the Daily Hampshire Gazette and completed a third novel, Gus in Bronze, which was published by Knopf and in condensed form by Redbook magazine. She then moved to Boston, where her literary agent introduced her to another client, the writer James Carroll. Married since 1977, they have remained in Boston, where they have raised their two children.
In addition to her six books, Ms. Marshall has been a Film Critic for The American Prospect, a guest columnist for The Boston Globe, and her essays, feature stories, travel journalism, and opinion pieces have appeared in many literary journals, newspapers, and magazines. A relative newcomer to short fiction, her first short story appeared in an issue of Ploughshares guest-edited by Alice Hoffman, and was cited as one of "100 Other Distinguished Stories of 2003" in The Best American Short Stories.
She has taught writing in two of Harvard's extension programs and to MFA students at Emerson College. In 1989, she and James Carroll founded, with Pamela Painter and Robie Macauley, the Ploughshares International Fiction Writing Seminar held for nine years at Emerson's Kasteel Well in The Netherlands.
Since the creation of the Max Warburg Courage Curriculum in 1991, Ms. Marshall has edited the annual publication of The Courage of Children: Boston and Beyond, a collection of "Courage In My Life" essays written by sixth-graders. Initiated in the Boston Public Schools, MAXCourage has expanded to engage more than 200,000 students in 28 states across the country and 16 countries around the world.
She sits on the boards of "Consequence," an international magazine focusing on the culture of war; and The Massachusetts Center for the Book, which is affiliated with the Library of Congress.
Alexandra Marshall is the author of five novels: The Court of Common Pleas (Houghton Mifflin, 2001), Something Borrowed (Houghton Mifflin, 1997), The Brass Bed (Doubleday, 1986), Tender Offer (Knopf, 1981), and Gus in Bronze (Knopf, 1977). She has also published a nonfiction book, Still Waters (Morrow, 1978), written in conjunction with the PBS "Nova" film of the same title.