Parent Engagement For Early Literacy And A Lifetime Of Success
Parent Engagement For Early Literacy And A Lifetime Of Success.
Early language experiences influence many aspects of a child's life.
Why Raising A Reader MA?
Studies have shown that the single most significant factor influencing a child's early educational success is
an introduction to books and being read to at home prior to beginning school.
The dual-intervention moves the needle:
book access and parent/caregiver education on reading strategies.
Parents/Caregivers As A Child's First Teacher
Verbal engagement is key. Regardless of risk factors, the proficiency gap can be erased when parents engage verbally with their children in the early years.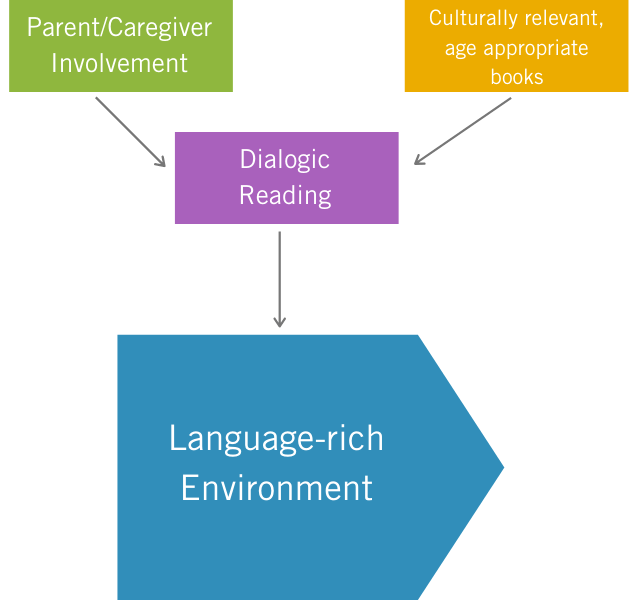 Evaluation of the
Raising A Reader Model
The Importance of Dual Intervention
A 2014 study of the Raising A Reader model confirms the importance of the dual intervention. Increasing exposure to high-quality children's literature is not enough to move the needle on language and literacy development – parent/caregiver training in optimal shared reading practices are necessary in order to make a difference.
The study finds that the dual-intervention not only promoted school readiness in at-risk children, but also accelerated a closing of the opportunity gap among the most vulnerable children.
Jason L. Anthony, Jeffrey M. Williams, Zhoe Zhan , Susan H. Landry & Martha J. Dunkelberger (2014) Experimental Evaluation of the Value Added by Raising a Reader and Supplemental Parent Training in Shared Reading, Early Education and Development, 25:4, 493-514, DOI: 10.1080/10409289.2013.812484.