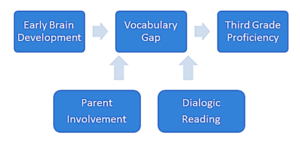 Raising A Reader MA's core program model is based on 25 years of academic research that shows the critical relationship between a child's early literacy experiences and his or her future academic success. The path toward reading proficiency, and beyond, is clear.
Early Brain Development: According to the National Research Council and Institute of Medicine, the human brain develops more quickly during the first five years than at any other point in one's life. Studies have also shown that 85% of the foundation for a child's intellect, personality and skills is formed by age 5. Strong brains are built through interactions, primarily the "serve and return" nature of conversations between child and adult.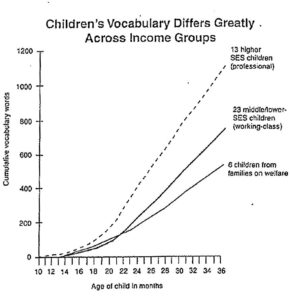 Vocabulary Gap: 35% of U.S. children enter kindergarten unprepared to learn, with many lacking the vocabulary crucial to school success. Risley and Hart's groundbreaking study, Meaningful Differences in the Everyday Experience of Young American Children, showed that this gap appears as early as 18 months, when higher-income children's vocabulary first shows a marked difference from their lower-income peers. Additionally, by age three, children from economically privileged families have heard 30 million more words than children from poor families – a statistic that only grows by kindergarten. Because vocabulary at kindergarten entry is a key predictor of third grade reading proficiency, it is vital that all children enter their school-age years on an even playing field.
Why third grade? The Annie E. Casey Foundation's report "Double Jeopardy" highlights the need to prepare children early. They found that 16% of children who are not reading proficiently by the end of third grade do not graduate from high school on time- a rate four times that of proficient readers. Low-income children who are not reading on grade level by third grade are six times more likely to not graduate on time and low-income children of color who are not reading on grade level by third grade are eight times more likely. However, "the racial and ethnic graduation gaps disappear when students master reading by the end of third grade and are not living in poverty (Annie E. Casey Foundation. Double Jeopardy: How Third Grade Reading Skill and Poverty Influence High School Graduation, 2012).
Parent Involvement: Regardless of income or parents' education level, the proficiency gap can be erased when parents engage verbally with their children in the early years (Motoko Rich, "Language-Gap Study Bolsters a Push for Pre-K"). Additionally, parents who maintain direct and regular contact with the early educational setting and experience fewer barriers to involvement have children who demonstrate positive engagement with peers, adults, and learning. This family involvement in early childhood sets the stage for involvement in future school settings.
Dialogic/Shared Reading: The best way to enrich a child's early years with intensive vocabulary is through interactive reading when children are exposed to words they might not hear in everyday life. Studies have shown that the single most significant factor influencing a child's early educational success is an introduction to books and being read to at home prior to beginning school.
For more information on the foundation of our work, please read the following:
Early Brain Development:
"Three core Concepts in Early Development," Center on the Developing Child, Harvard University
"InBrief: The Science of Early Childhood Development," Center on the Developing Child, Harvard University
"The Science," Brain Building in Progress
Language Gap:
"The Early Catastrophe: The 30 Million Word Gap by Age 3," American Educator, American Federation of Teachers"
Language-Gap Study Bolsters a Push for Pre-K," The New York Times
"Language gap between rich and poor children begins in infancy, Stanford psychologists find," Stanford News
Obama, Clinton, McCain and Frist Appeal to Parents to #CloseTheWordGap
Third Grade Proficiency:
"Double Jeopardy: How Third-Grade Reading Skills and Poverty Influence High School Graduation," The Annie E. Casey Foundation
Parent Involvement:
"Family Involvement Makes a Difference in School Success," Harvard Family Research Project
Dialogic Reading:
"Dialogic Reading: An Effective Way to Read to Preschoolers," Reading Rockets