Brains and Beauty: Miss Cambridge 2015 Teaches Families The Importance of Reading Together
Samantha Hawkins moved to Boston in 2014 to pursue her PhD in sociocultural anthropology at Harvard. A year ago, she won the Miss Cambridge pageant, and now travels all over Massachusetts performing, speaking, and raising money for local charities. One of the nonprofits she is involved with is Housing Families, a partner organization of Raising A Reader MA (RAR-MA). There, she facilitates parent workshops using the RAR-MA curriculum. Samantha was kind enough to share some of her experiences with us.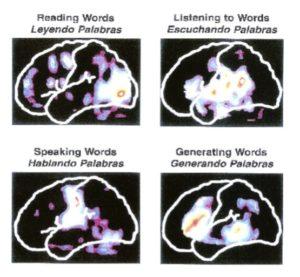 The Raising A Reader MA program covers the importance of early brain development and dialogic reading, a form of interactive reading that focuses on asking children questions to increase the number of words they learn and encourage deeper engagement with a story.
Samantha loves that dialogic reading is a collaborative and interactive experience between a parent and child. At the beginning of the program, she would ask parents what they do with their children at home. Responses included "watching movies" or "going to the park." Only rarely would a parent mention reading. Over time, parents learned that they do not have to read the words on the page or even know the language the book is written in in order to have storytime with their children. This makes reading with their children less intimidating and less frustrating for them.
Over time, Samantha observed families beginning to create reading routines that are easily adaptable to their everyday schedule. The reading strategies taught in RAR MA workshops can be applied beyond books and storytimes. For example, when parents are out running errands, they can point to a stop sign and ask their child questions to encourage them to think critically about the world around them. "What is this sign?" "What is this sign for?" To Samantha, helping parents plant the seeds of future academic success for their children is the most rewarding part of her volunteer work.
Reading Strategies Useful in Any Language, Any Setting, and at Any Age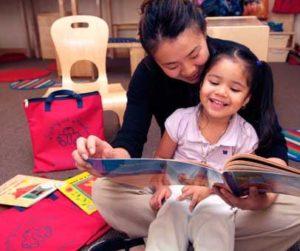 Samantha is also grateful to her own parents, who instilled a love of reading in her at a young age. She still remembers them reading Berenstain Bears with her over and over again, keeping the story interesting every time by asking her different questions and connecting it to other books in the series or her life. Though she didn't know it then, her parents were using dialogic reading strategies to encourage a love of reading and exploration.
Even now, for her research at Harvard, Samantha uses many of the same reading strategies she teaches to parents. To better understand her dense anthropology readings, she sometimes reads the text aloud to herself and makes notes in the margins with questions that she would like to ask her peers in class. In doing so, she is making connections to other texts and to the real world, one of the key components of dialogic reading.
As Samantha demonstrates, dialogic reading strategies are not only useful for storytimes with young children. They can be used by any parent in any setting, no matter what language they speak. Dialogic reading can also be used whether a student is in preschool or grad school.  Now, with help from their parents and Samantha, children in Malden will have a better chance for success.